Getting your home organized can seem like a never ending task, especially at this time of the year when you frequently have guests coming and going. We've found some neat ideas for you to use to help organize.
1. Store small kitchen utensils in a white stoneware pitcher. It not only keeps everything organized, but when left out on the counter it doubles as decor.
2. Use small
jelly jars
in the craft area to hold small things like buttons, popsicle sticks, and more!
3. Baskets always help a pantry stay organized.
4. Use shelves under your upper cabinets to keep measuring cups,
measuring spoons
and other often used items within reach.
5.Have a Keurig? Here's a great way to organize those k-cups: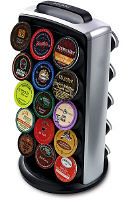 What are your favorite organizing ideas?