I can't remember a Christmas without many mouthwatering flavors of Wisconsin cheese. Yesterday, I received my Christmas cheese, pictured below.
The cheese is sent to us each year from Wisconsin Aluminum, the in-the-USA-for-real manufacturers of All American Cookers and Pressure Canners, one of our favorite companies.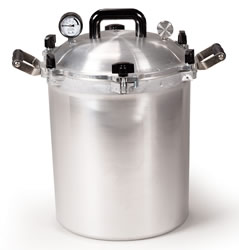 This is an All American. The Chevrolet of pressure cookers and canners. Top of the line construction that leaves food expertly preserved. Nothing else comes close to its seamless design. Many still prefer the rubber gasket-sealing cookers and canners. What seal do you prefer?
Okay, so, perhaps getting cheese from Wisconsin each Christmas isn't THAT normal. But for many of us here at Red Hill General Store, it marks the cold season in the mountains with our families.
(yesterday) "Cheese is here?!?"
BREAKTIME.
Also known as, time for the Red Hill General Store family to play dirty Santa! How else would we divide it all up?
The Christmas package from Wisconsin was divided into piles of deliciousness (like the one below). Legitimately finger-licking sausages, crackers, peanut brittle and all things we dream of eating with cheese come as part of the package.
The Wisconsin aluminum foundry's cheese is a Christmas gift reminding us of our connection to our land (in the country that is our pride)

and the good work small businesses are collectively doing on the earth.
From everyone at Red Hill General Store, here's wishing you a very Merry Christmas filled with love.
And if you're thinking about making your own cheese, you'll need
cheesecloth like this
and some goats or cows.
Jenny decorated our Christmas tree pictured here 12-18-2014 in our customer service room. Michelle our office manager, guru of successful professional practices and Dirty Santa rules, is pictured in her pink office behind the tree.